0
Mob Blog: Diamond's Are a Girl's Best Friend, December 22, 2012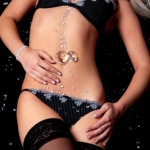 Victor says, "Lou, it's true what they say: Diamond's are a girl's best friend."
Hmm. I've got to think about this. Victor's right, of course. Diamond's are a girl's best friend, and a man's too, sometimes. I mean, they can accomplish things words can't, but then, you have to be certain of the message you want to convey. For my wife, who has more diamonds than most women, the magical stone is emblematic of how much I value her. It's also served to get me out of the doghouse from time to time.  And for my girlfriend ... well I think I'll skip the diamonds this year. I don't want to give her any ideas of permanence.
So why all this talk about diamonds? Well, it's the 22nd of December and Victor and I are Christmas shopping. And where did we go? My good friend Ari Klein Jewelers on Worth Avenue. You might remember Ari from Stella di Mare. Ari's what they call a "stand up guy." Anyway, he knows my taste and my budget (not to mention my lifestyle), and he's got the goods lined up for me. So in about twenty minutes I get gifts for my wife and beatuiful princess of a daughter, Stella, and yes ... for my girlfriend.
Patricia Bellomo is the author of the crime thrillers,
Louie Morelli's Daughter
and
Stella di
Mare
. She write about mobsters and millionaires in South Florida and New Orleans. This blog is written in the voice of her main character, mobster Louie Morelli. Books available AMazon & B&N. Also in ebook.