Praise for the Crime Fiction Writer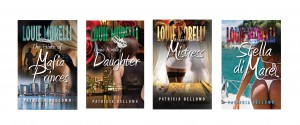 What people are saying about Patricia's Books.
Midwest Book Review
"'Louie Morelli's Daughter is a fast paced action and adventure thriller; highly recommended." 
5 star Amazon review on Louie Morelli's Mistress:  "Makes me want to go to New Orleans."
"All in all, an excellent book. I look forward to checking out the other books written by Ms. Bellomo. If they are half as good as this one, then that will be money well spent."
" A Daring and Suspenseful thriller" … Amazon review.
Praise for The Prince of Mafia Princes
Net Galley Review: February 2023
Louie Morelli's Mistress is an exceptional novel and was hard to put down. Many thanks to Libreria Publications and to NetGalley for providing me with a galley in exchange for my honest opinion.
RJ McKay: Goodreads Review:  July 2015
No one messes with the family of Louie Morelli. Rich and connected, Morelli is everything the reader expects from a Mafia Prince.
Hidden behind a façade of beauty and glamour is a world of violence, vengeance and revenge. This is the world of Louis Morelli. On the outside his life is one of ocean views, fine dining and beautiful women, but under the surface his world is brimming with powerful men who will stop at nothing to get what they want.
And when someone makes the mistake of threatening Louie's family, they better watch out. When Louie discovers that his son Tony is being black mailed by an escort and her associates, he reaches out to a Russian connection to get to the bottom of it. But this is only beginning of the troubles that he will face in Patricia Bellomo's new book "The Prince of Mafia Princes".
While this book is the fourth book in the series, a reader picking up this book will have little trouble identifying the characters and settling into the plot. This book is entertaining and fast-paced .
Amazon Review: July 9, 2015
This is the fourth in the Louie Morelli series. I have not read any of the previous books, but it is easy to follow and be able to read this independently of any of the other books. It is a steady read with graphic violence and sexual content. I would recommend this book to adult readers. The characters can be confusing at times, but there is enough background information that I was able to remember who the author was referring to at times. The story line is enjoyable to read, but with the details that the author provides, it ends up being a little predictable. I expected more violence honestly with the mafia involvement; however, it seemed as if the incidents in the book were taken care of in a matter of fact manner. It was refreshing to read. The whole story basically begins with Louie checking in on his son Tony and not understanding why he was acting so unlike himself. Without giving too much detail away from the plot of the story, I'll just say that sex complicates everything. This complication basically drives the entire book's plot and brings the reader to the very end. Everything is wrapped up neatly at the end and there is nothing left open ended. I received a free copy of this book in exchange for my honest review.
Five Stars for Louie Morelli's Mistress
Net Galley Review, May 10, 2015
"I requested this book for review. Somewhere down the line it got shoved to the bottom of the review pile and by the time it got to the top I was reluctant to start on it. I could not imagine what drew me to the book at the start.
Eventually, I started on it and could not put it down. From organized crime, old fashioned mafia bosses to voodoo, this book has it all. Mercedes is twisted. Her daughter even more so.
The ending, however, sent shivers down my spine. I cannot imagine who would not be attracted by one or more facet in this book. It has been a long time since I last read a mafia book and enjoyed it this much. Given, the supernatural angle, but still … This was an exceptionally good read."
From reader Charmayne Boggio, June 2013: "Met you at Luciano's and then at Penna's, at which time I purchased your book, Louie Morelli's Mistress. Wow. very entertaining read. Loved it. Never expected the ending. I am looking forward to reading the next book."

Review by April Renn:  MyBoookAddictionReviews

"This story is action packed with murder, power, sex, money, violence, and the mob. It is a roller coaster of a ride that will have you coming back for more. It is filled with twists and turns. A must read for any thriller/suspense readers."

From Dad of Divas' Reviews / http://dadofdivas-reviews.blogspot.com/2011/05/book.review-louie-morellis-daughter.html.co

This book is a page turner.  As a reader you are taken on a journey where you must figure out where Louie's loyalties lie. You are also brought into a world of crime, where loan sharks will take your loved ones to settle a debt, not a world that I want to be meeting anytime soon. I have to say that this book was a fun and engaging read. While there were parts where I was simply flabbergasted by the audacity of the characters, I was drawn into the book, and I found it to be one that I could simply not put down.  Tuesday, May 3, 2011 / From Dad of Divas

Writer's Digest  rates "Louie Morelli's Daughter" a "5",on a scale of 1 to 5, with 5 being  excellent, for character & plot development.

From Obaidur Rahman in Bangladesh: "I am a big fan of yours and your novels. You are a magician of a writer and a true wordsmith!!! I love the plot-lines that you so awesomely create. I was humbly wondering could I please get a book of yours containing an autograph. I know the requeest of such is very high, but I live so far away, in a small  country called Bangladesh. It would mean a lot to me. I adore your writings. I am a fan of your thundering wordsmanship."  Obaidur Rahman

———————————————————————————————————

"If you can't read it on a South Florida beach, you'll feel like you're there!!!"

Jackie Cocquyt,
Michigan / South Florida resident

"Louie Morelli's Daughter is a suspenseful, thrilling book with realistic characters and a plot that is both unique and enticing. Patricia Bellomo successfully explores a world filled with power, sex, and money, candidly revealing the violence necessary to maintain such an elegant lifestyle."

Geoffrey Hoesch,
writingeditingservices.com

"Patricia Bellomo's characters are vibrant and lively. They seem to jump off the page and sit right next to you …"

"An exciting roller coaster of a read, from beginning to end"

Anthony McCallum,
Art Director

"A page turner … I couldn't put it down. If you're planning a beach trip, this is the book to take with you."

Monica Cavaliere,
Sales Associate, Serra Buick-GMC-Cadillac

"I love it! Next to King, Patricia Bellomo is my favorite author."

Andy Keiper,
Metamora, Michigan

"Louie Morelli's Daughter is awesome. Patricia Bellomo has the best characters in fiction."

Dan Sensini,
Macomb, Michigan

[dcs_clearboth h="10″]

Reader reviews for Stella di Mare

"Ms. Bellomo, I am now a fan. You should market 'Stella di Mare' as a screenplay!" …. Paul Bucci

Suzanne October says … "It was fantastic. I can't wait to read the next one!"

"A good read with a lot of twists that had me wondering what would happen next. I think this would make a great movie."

Bonnie Hutton
Retail Personal Banker, Comerica Bank[/dcs_p]

"Very enjoyable read. My dad read it too, and liked it. It makes me want to go to South Beach!"

Marcee Findlay

"I'm on Chapter 70 and loving every word of this wonderful book!!!! You've blown me away!"

Michelle Boscarino
Mother, Grandmother

"I really enjoyed this book. It had lots of everything … great characters, twists and turns, sex, murder, mystery, love, money, yachts, the mob, Florida sun and nightlife. I can't wait to read the next one."

Diane, Independent Reviewer

"Very Entertaining Read" by Rocketdog, Amazon Reviewer

"I am a very avid reader and enjoy many different types of books. This book was very entertaining and a great read. Mobster Louie Morelli is an interesting character with some surprising twists. Loved the book!"

"Great Read" by Anne, Amazon Reviewer

"Wonderful book by a new author. Interesting cast of characters. Couldn't put it down. Left you wanting more!"

Barnes & Noble Reviewer … "What a fabulously written book. Great characters! I can't wait to read this author's next book."

Merrie Kassab … "I just finished the book and loved it."

 "I am so bummed I just finished Louie Morelli's Daughter. I enjoyed it so much. I'm sad that it has ended. What a turn the story took. I never suspected Stella would make such a turn around. Louie is the kind of man we all wished we knew."   Joanne Recchia, January 2012.