Mob Blog: Louisiana Oil Man, March 29, 2016
I'm sitting on my terrace with the Louisiana oil man, Jay Connolly. It's near dusk, and the clouds, tinged with lavender and orange, are bunched up over the Atlantic, the sea calm and smooth as glass. We're sitting facing the sea, watching tankers and cruise ships traverse the horizon. I'm relaxed as I can be, but Jay, for all his old-fashioned courtesy, is wound tight as a drum.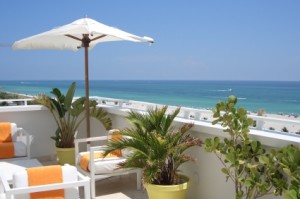 I've known Jay my whole life. He's been like an uncle to me because it was my old man who bankrolled him, giving Jay his start when he was a wildcatter down on the gulf.
Jay's a character. His wife died years ago, and every couple of months he has a new girl. They're all strippers and showgirls and barmaids and so indistinguishable from one another that I don't even try to remember their names.
Jay doesn't have a girl with him today. He's beleaguered and out of sorts. He doesn't like Palm Beach, considers it a little too prissy and liberal, yet he had his pilot fly him in on his Gulfstream this morning. Jay called me from the air above Mobile, letting me know he was en-route, which is about the time I began to suspect he had a problem.
"It has to look like an accident."
Now Jay is sitting beneath the overhang on my terrace with a glass of Booker's Single Barrel Bourbon (he brought his own), telling me about his problem. It seems like the Louisiana oil man wants my help "eliminating an obstacle". I know who he's talking about. A hard-ass victim's rights attorney doing a class action. It's been on the news a lot, and Jay's taking heat in the court of public opinion. And he's really angry because he's always tried to do the right thing, and the media is crucifying him.
"Lou, it's a tricky situation," he says. "It has to look like an accident."
I give him a long look. I can see he's worried. I don't try and talk him out of it. After all, we've known each other a long time, and we've had these kinds of situations before.
A minute later, the sky going dark over the ocean, I say, "I'll have my guy call you first thing tomorrow."
If you enjoyed Louisiana Oil Man, you may wish to purchase one of Bellomo's books.
Books include The Prince of Mafia Princes, Louie Morelli's Mistress, Stella di Mare, & Louie Morelli's Daughter.
Available online at Amazon.com/Barnes and Noble.com