0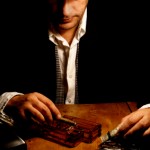 Mob Blog: Miami Beach Mobsters, October 10, 2013
  In Louie Morelli's words ...  
Did I say the Russian's make me nervous? They're unpredictable, these new Miami Beach mobsters, with their expensive Cristal and low priced prostitutes. Unfortunately, the way business is today, I'm obliged to meet with them every now and then.
My venue of choice is my own nightclub, Franco's, which is a Miami Beach favorite, even for Miami's new Russian mobsters. I meet a couple of them up in the VIP lounge, where Franco pours the Cristal and Victor offers Montecristo's.